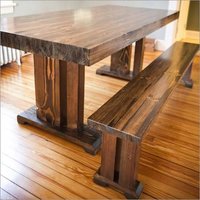 Solid Wood Table Tops
Product Description
We offered Pre-made Solid Wood Table Tops, which are an ideal solution for an engaged carpenter who doesn't have the time or doesn't want to be bothered with the boring glue up process. Such table tops come in almost all sizes or kinds to choose from. Our upgraded machinery & equipment enable us to glue up, square the panel, cure the glue, plane and sand the panel in less than 60 minutes.

Edge gluing technique is an effective way to create a dimensionally stable, wide, panel of hardwood to create a seamless as well as solid appearance. It is hard to find large timber as trees only grow so big. Even in broad timber, the larger a piece of wood, the more that wood moves to follow the development ring that results in twisting and cupping.
In addition, the Solid Wood Table Tops are great for homes, banquet halls, hotels, restaurants and bungalows due to their simple maintenance, seamless surface finish, termite & borer resistance and cracks & scratches resistance.
Contact Us
Village Karnera, Ballabgarh Samaypur Road, Faridabad, Ballabgarh, Haryana, 121004, India
Phone :+918068211700